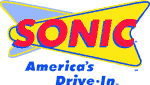 Need I say more?
Sonic FINALLY opened here on Sunday, so I made a little trip out after work yesterday and got my fix that I've been waiting so long for. #1 combo with tots and a cherry limeade!
They actually had the kids wearing rollerskates, all 250 of them... Oh my gosh I felt so bad for them, running into each other, falling down, dropping orders... I mean, roller skating used to be the norm, but there's no place for kids to even skate around here other than the ice rink!
Anyway, back to the food... I was so happy that it tasted just like every other Sonic I've ever been to, and they have the same ice. Weird thing to be happy about, but when you've lived without something that you love for so long, you wanted it to be just like you remembered. lol
Hoping to catch up on posting soon, of course every time I say that it's a week before I post again, sorry about that. And thanks to all of you who have stuck in there and keep coming back!
Things have been pretty hectic at work again, illness is rampant and I'm the lucky one that always catches everything, so posting and reading time have been limited. hate that....
Hoping you're all having a good week.
Tiff