Just found out they will soon be bringing a little piece of Heaven to the valley... Now just by reading this post, there's no possible way to know the excitement that it contains, but let me just say that if you've ever lived near a Sonic, and then were forced to live without it for any amount of time, you know exactly the excitement that I'm talking about!
After being away from Texas, for 5 LONG years, any time my daughter N. or I travel back home for vacation, the first place we MUST stop is Sonic. It just goes without saying, although we do say quite a bit about it, both beforehand and after, lol.
My mouth is already watering for a juicy #1 burger, no onions, with tater tots and a cherry lime-ade. So, to my favorite people in the entire world, the people that have decided to grace us with the Sonic presence, I am forever in your debt, pleeeeze, pleeeeze make it quick, I can't take it much longer!



And now back to our regularly scheduled program.... I've decided that since I have about a hundred stacks of books ALL OVER THE HOUSE, that I might need to start reading some of them, before C. moves out to the garage (hmmmm... on the other hand.. lol), and have decided to join the 100 Book Challenge, anyone else up for the challenge?! You can find the details here:











And starting last night, my first book is Clay's Quilt, by Silas House.


"After his mother is killed, four-year-old Clay Sizemore finds himself alone in a small Appalachian mining town. At first, unsure of Free Creek, he slowly learns to lean on its residents as family. There's Aunt Easter, who is always filled with a sense of foreboding, bound to her faith above all; quilt-making Uncle Paul; untamable Evangeline; and Alma, the fiddler whose song wends it's way into Clay's heart. Together, they help Clay fashion a quilt of a life from what treasured pieces surround him..."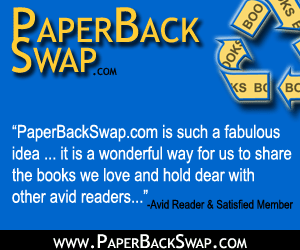 And of course I can't talk about books without mentioning Paperback Swap!! My absolute favorite website on the internet.... Go on over and take a gander, I think you'll be pleasantly surprised. And if you decide to sign up for the FREE membership, pretty please, won't you mention yours truly as your referral by using my nickname celticdrgnfly? I'd much appreciate it!

I guess I'd better get on outta here, N. and the boys are coming over for the weekend and if I don't get the chili on to cook we'll be eating macaroni and cheese for dinner.

Till next time...